Current wait time to manufacture this vest is approximately 6-8 weeks from time of order
4mm Buffalo leather hardcore bikers vest with feature double stitched edge detail , this style features two full width lower inside pockets made from Australian kangaroo leather , 4 Plait round kangaroo leather side and shoulder laces and your choice of either Nickle Plated brass buckles and keepers or polished brass buckles and keepers.
This vest is handmade in our workshop with an individual pattern made according to your size.
As such we need time to manufacture this vest with an approximate lead time of 6-8 weeks.
Please see our measuring guide below , remember to double check your sizes especially shoulder size as the size we make to is NOT the outside of your shoulder bone but an inch inside this point either side as drawn in our guide .
Back length if made too long will cause a tendency for shoulders of vest to sit up when your riding . If your waist size is greater than your chest size we do not recommend using a 4 mm leather. Contact us for other options.
This vest is supplied with a can of leather conditioner which we recommend treating your new vest every month to help soften the leather and help to mould the leather to your body shape.
If your size is outside of what is listed in our menu please contact us to order as larger sizes cost more.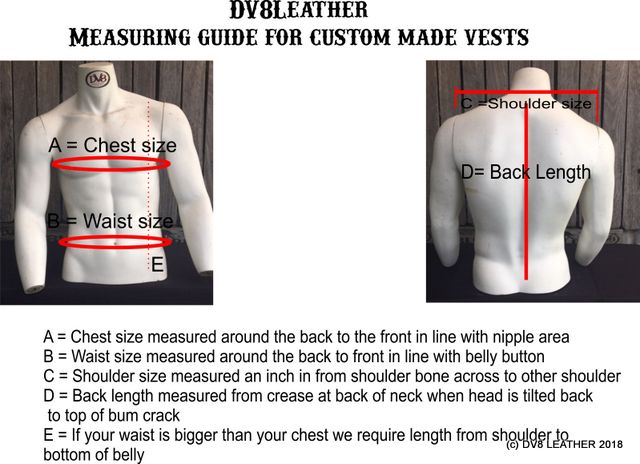 12 month stitching Warranty